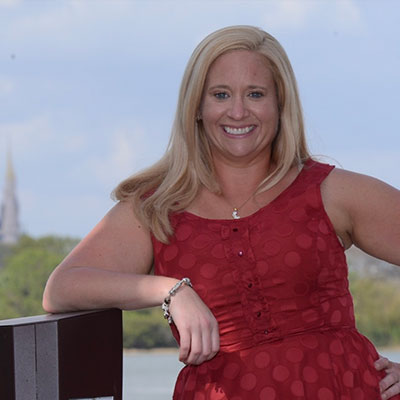 OWNER & MANAGER
Amy Smith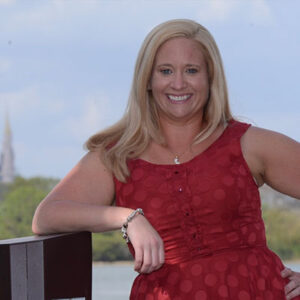 I have been enchanted by Disney since my mom took me to see Snow White at the movie theater when I was just a little girl. I was hooked! I dreamed of meeting my prince charming and riding off into the sunset, to our beautiful castle. Some years later, my husband made my fairy tale dream come true when he took me on my first Disney trip for our honeymoon.
Now we are a family of Disney lovers! We take our little prince and princess on family trips to Disney World and Disneyland a few times each year. I treat each trip as if it were the trip of a life time. At Walt Disney World, the Polynesian is my favorite resort. It's like a entering a different world every time you walk through the resort doors. My favorite moment of every trip is the second I round the corner onto Main Street USA and get my very first glimpse at Cinderella Castle. It takes my breath away every time.
As much as I am in love with Walt Disney World, Disneyland in California holds my heart. The magic of Walt himself can be seen and felt all over Disneyland. It's the first, the original—the park that Walt built. My newest Disney love has become runDisney! I ran my first half marathon in February 2012—it was the Disney Princess Half Marathon and one of my most magical Disney moments yet. I look forward to years and years of fabulous Disney vacation to come.
I will put the same care and detail into planning your dream vacation as I do into planning my family's dream Disney vacations. Contact me today so we can get started!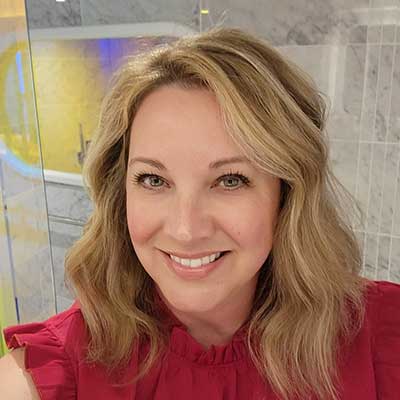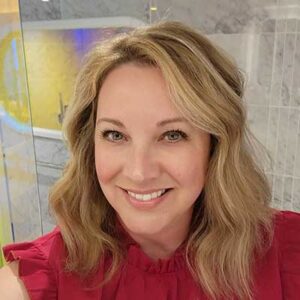 My love of all things Disney started back in 1982 when my parents took me and my sisters to Epcot and the Magic Kingdom. From that day, I fell in love with The Mouse and all that Disney encompasses! I visit Disney World annually.
I am proud to say that I have been an independent agent with Main Street Magic, LLC since its inception in 2014. I plan all of my client's vacations as if they were my own, and give the same attention to detail as I would my own family. I have experiences with numerous resorts and try to stay at a "new-to-me resort" every time I visit Walt Disney World. The same goes for dining! Just like my clients, I like variety and try to dine at different restaurants each visit. If it's a Counter Service, Table Service, or Signature Dining Experience, I have tried many restaurants and can offer helpful tips with planning where to dine.
From vacation planning, to dining reservations, to helping you understand the Disney Genie+, I can do it all…..AT NO COST TO YOU, regardless of your budget. I also work hard to find the best price for your vacation. In the event you book a vacation with me and a promotion is released, I will try my best to apply a discount for you if it is applicable to your vacation! Want to book a VIP tour? I can help with that! I can also book, dessert parties, pirate cruises, and holiday parties. I also include a little "Disney Magic" when you book your vacation with me.
In addition to booking Disney World, Disneyland, Disney Cruise Line, and Adventures by Disney, I book Sandals and Beaches vacations. If you want to sail the high seas, I can book your adventure! From Royal Caribbean, Carnival, Norwegian, Celebrity, to the all adult Virgin Voyages, I will help you every step of the way.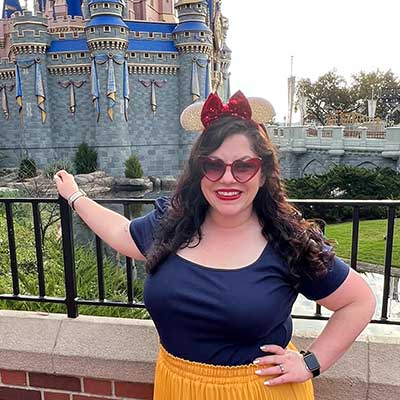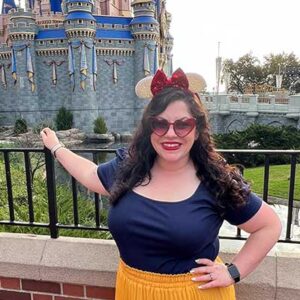 I had only been to Disney one time in my childhood but the memories made during that trip can still be recalled to this day. When I applied for the Disney College Program in 2010 I couldn't have imagined how it would change my life. I had originally accepted a merchandising position at Disney Springs, when I arrived I was informed that they did not have room but that I could have a custodial position. I ended up working LONG hours at Magic Kingdom, specifically Tomorrowland, Toontown and Fantasyland. I made amazing friends and even met my now husband in the Stitch breakroom!
Through all of this I knew that I could not stay at Disney forever (because I am a New England girl at heart) but I needed to find a way to keep Disney in my life forever! I met Amy Smith through a blog she had written about running the Disney Princess Half Marathon that inspired me to do the same in 2013. I messaged her to let her know her blog gave me the courage to run and we kept in touch from that moment on, it was an easy decision when she asked me to join her on this travel agent adventure.
I get goosebumps each time I see Cinderella's Castle, cry during the fireworks and work very hard to bring that magic into every trip I plan. I will help you book everything from, transportation, dining reservations, help you maximize Genie+, and add on tours. I also love helping my clients find the joy during the "in-between", stopping to literally smell the confectionary, listen to the Dapper Dans and watch the little moments that make Disney so magic.
I am also expanding beyond Disney Vacations. Find me on Instagram [ @Mainstmagicsteph ] to see what is next. I can't wait to help you plan your next magical vacation!
Are you ready to make some magic? Get in touch today, I can't wait to help you and your family plan the experience of a lifetime!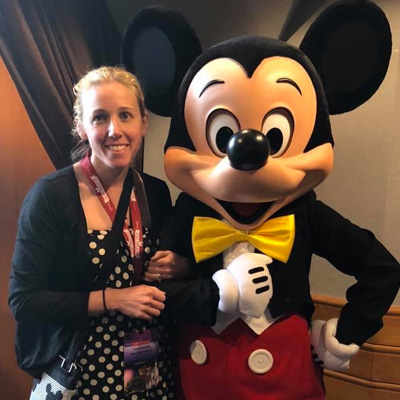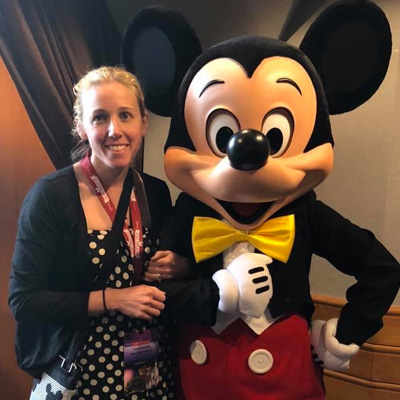 Pack your Mouse Ears and get ready to travel!
As a lifelong resident of the East Coast, I spend my free time enjoying trail and road races with my husband and four children. I enjoy coaching youth sports teams and cheering alongside the dance competition team. Together we traveled to every corner of the United States and a bit beyond. After 16+ distinguished years as an elementary education professional, I have turned my passion for travel into a career. I obtained my travel and tourism certification 5 years ago and dove headfirst into the field! My passion for travel coupled with my time management skills allowed me to transition seamlessly into the travel industry while obtaining certifications and destinations in numerous specialties.
I am a Virtuoso Certified Travel Specialist, a Special Needs/Autism Specialist and Adventure Travel Specialist with Destination Specialist Certifications in Disney Destinations, Universal Studios, AMresorts, Sandals & Beaches, Royal Caribbean Cruises, Norwegian Cruise line, Princess Cruises, Orlando, Hawaii, Alaska, Jamaica, Caribbean, Mexico and Australia. I specialize in dietary restrictive travel, large family travel and RUNcations. I am also an Ambassador for Xcaret (Mexico) and Atlantis (Bahamas). While I enjoy travel worldwide, I do have a fondness for ALL things Disney! With a background of expertise on Walt Disney World, Disneyland, Disney Cruise Line, Adventures by Disney and runDisney events, I can answer all of your questions and give you my secrets to making your vacation magical.
As your Vacation Specialist, I will help you experience everything Disney has to offer. Focusing on attention to details, I handle all of the work of planning a Disney trip for you so all you need to do is sit back and enjoy. If you are a planner by nature, I can recommend and guide you to ensure your ideal vacation goes off without a hitch. Looking to book the perfect large family or group trip? I also specialize in organizing group travel and homeschool groups with Disney's YES program (Youth Education Series), and destinations "beyond the ears".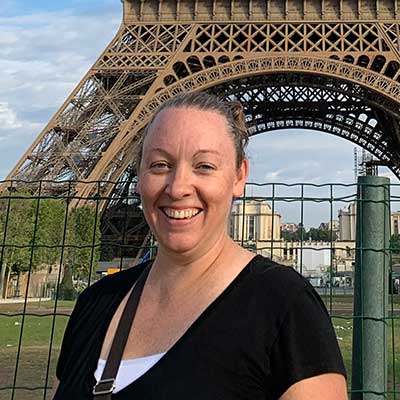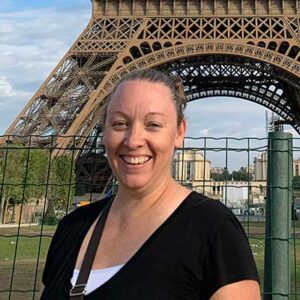 Growing up in Hawaii, I was able to experience first-hand something that people dream of experiencing. As glamourous as growing up in Hawaii sounds, and it is, travel was not something that we did on a regular basis. One year, my parents surprised us with a trip to Disneyland. I had no idea what I was about to experience. Seeing Sleeping Beauty's Castle for the first time and running around Disneyland with my siblings was something I will never forget. This first glimpse of Disney instilled the Disney and travel bug in my heart that has yet to diminish. In fact, it has only grown as I've gotten older and have a family of my own. Since then, I've been able to go visit Disneyland, Disney World, Disney Cruise and Adventures by Disney multiple times, as well as travel all over the country, to Mexico, to Europe and the Bahamas.
Traveling with my family and making memories with them is one of my most prized processions. Because of this, I know how important it is to help others make priceless memories with their loved ones. I am committed to helping others create memorable vacations that you'll look back on as having had the time of your lives. Adventure is waiting and I can't wait to help you get out there. Contact me to book your next memorable vacation.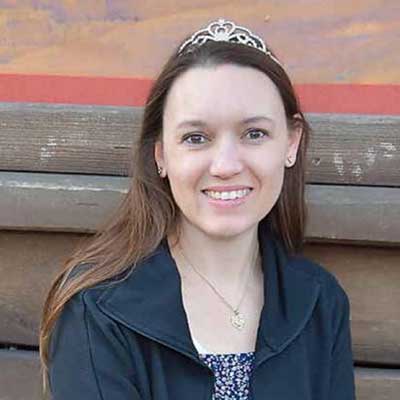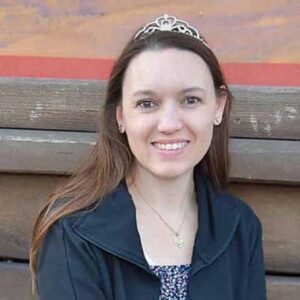 I was born and raised a Disney girl! My husband and I met in high school and have four Disney loving kids now as well. I grew up in Hawaii and we traveled to Disneyland several times as a child. I became an Annual Passholder as an adult, living in California. We've since moved to the east coast, and I've come to love Walt Disney World too! I have run several runDisney events at Disneyland and Walt Disney World and can't wait for that next run to keep me going.
I have been a travel agent for over five years and have enjoyed helping all my clients plan and enjoy magical vacations whether at Disney, Universal, or cruising. I love the planning process and I'm here for you as an advisor and advocate from the first contact until you are home from your vacation. I have personal experience with Disneyland, Walt Disney World, Disney Cruise Line, runDisney events, Disneyland Paris, Royal Caribbean, Carnival Cruise Line, Hawaiian and European vacations.
I've completed training with Disney, Universal, and Royal Caribbean and continue to update these certifications annually. I'd love to share my knowledge and expertise with you as I get to know you, your family, and your travel needs.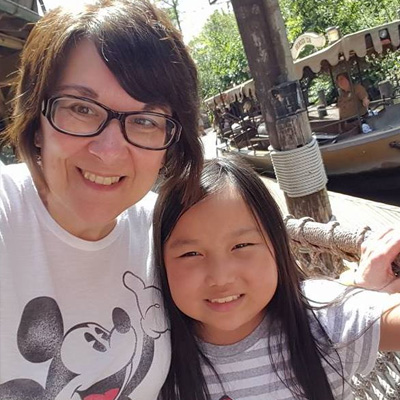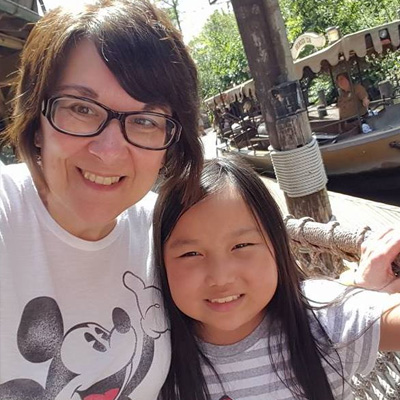 I wish I could say that I have been going to Walt Disney World since I was a child, but my first visit was in 2000 as a mom with two little children in tow who were also making their first visit.
We haven't looked back~ we were hooked! As a mom, I love the lasting memories that we have as a family. I know that when we visit a Disney property we are experiencing the best customer service and getting the best value for our vacation dollars.
When thinking back on our first trip, I was SO overwhelmed by all of the planning- how to get there, where to stay, where to eat, what to ride- I was introduced to a Disney Travel Planner who took care of everything for me and at no additional cost to my family. I knew we were well taken care of. Fast forward 15 years and A LOT of Disney trips later, I began wishing that someday I could give back and help families the way I had been helped. Through the magic of social media and runDisney I was able to cross paths with Amy and found out that DREAMS really DO come true and joined the great team at Main Street Magic in early 2016. I have loved every minute since! I would love to help YOU make MAGICAL MEMORIES!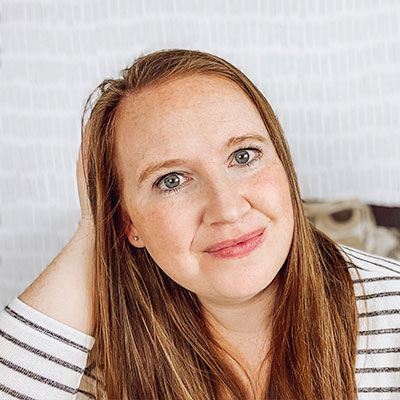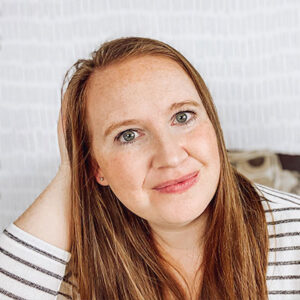 My name is Becky Bills and I specialize in Disney destinations at Main Street Magic LLC. If you're here, it means you are in the early stages of planning a vacation that must be really important to you. I'm looking forward to connecting with you!
I have always loved the idea of Disney. I visited Disney World several times as a child and again as an adult, making incredible memories. When I visited as a parent for the first ti​me- it happened! I said "yes!" I wasn't bothered by crowds. I didn't have to worry about anything other than my family. We had a loose itinerary to guide us and let us experience so many things in the moment. I let go of anxiety, of stress, and I SMILED! We grabbed Mickey ice cream bars and sat down on the curb of Main Street USA to watch the parade. I looked over at my daughter and saw COMPLETE JOY! My eyes filled with tears, I loved how our family felt here. In this exact moment as she ate ice cream and waved to characters - I knew. I loved this feeling. And now we go back frequently. I fell in love with Disney that day. I know the magic it holds for children- BUT MAMA- it holds magic for you, too.
Let's connect and build a beautiful vacation together!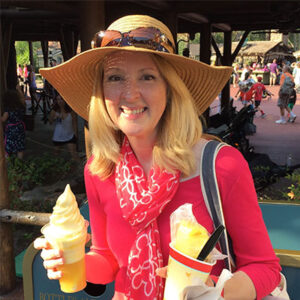 I have enjoyed Disney vacations over 40 times! I have planned trips for first time visitors, families with small children, large multi-generational groups, and adult only get-aways. Do you want to have a magical time without all the hassle, at no additional cost to you? I have personally been to Disney parks, sailed with the Disney Cruise Line and traveled with Adventures by Disney. I plan from experience. Contact me and Let's Plan Magic Together!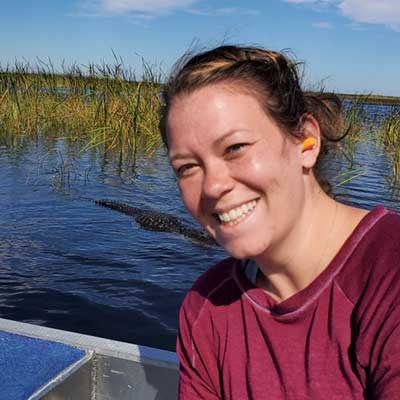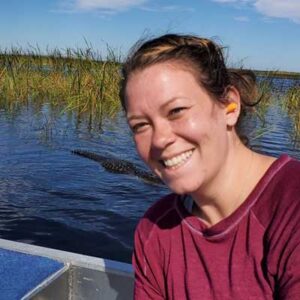 Hi, my name is Erin. I'm from Hershey, PA born and raised. I am married with two little girls. I fell in love with Disney as a little girl. My first trip I still remember, I was just five years old decked out it Minnie Mouse gear. I remember waiting to meet Minnie in her house back when Toon town was still in Walt Disney World. Minnie came in and gave me a great big hug and kiss on the top of my head. I was starstruck and that was the point that made me a Disney lover for life.
Since then I have made so many memories with my friends and family in Disney!
I've been with the Main Street Magic team since 2017 helping to plan so many magical experiences. I would love for you to be my next!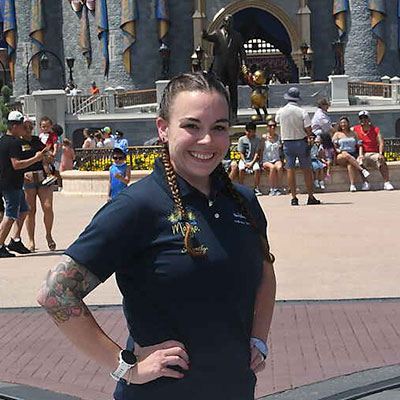 I've always had a love for Disney growing up, but my first trip to Walt Disney World in 2011 definitely made me fall in love even more! That trip came at a time that we needed a little touch of magic, and we truly got so much more! My husband and I were instantly hooked, and we made sure we would be back.
Now, we have 2 Disney obsessed kids that we are able to make some core memories with! We love the ability to see the magic through their eyes, it makes it so much more amazing! We visit Disney World a few times a year, as annual passholders and DVC members. We've also become a running family, and participate in multiple RunDisney events throughout the year, which has easily become some of my favorite times to visit the Walt Disney World Resort!
In addition to planning magical vacations to Walt Disney World, Disneyland, and Disney Cruise Line, I am a Universal Travel Professional, and can book multiple destinations throughout the world. I love planning trips as much as I love taking them! My services are completely 100% free to you, and I plan each trip as it was for my own family! Contact me today, and let's get started on planning your own magical vacation!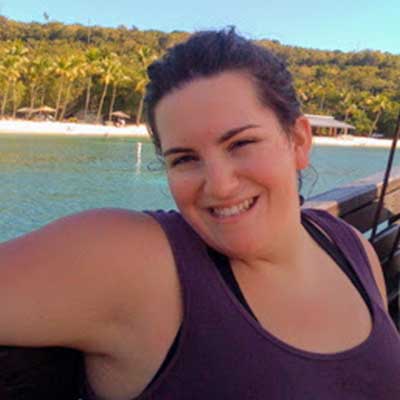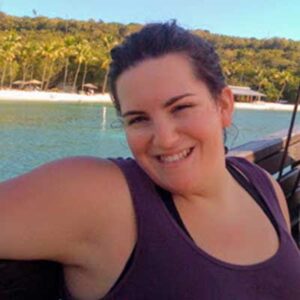 My name is Kelly Bonatsakis and I am located in central Connecticut. My love for Disney started way back when I was a little girl, visiting Disney World and Disneyland often with my family. For me, nothing could ever match the thrill of meeting Tinker Bell in person, or the feeling of soaring through the clouds on the Peter Pan ride. I don't think I could've ever imagined at that time, walking down Main Street in Magic Kingdom and marveling at Cinderella's Castle, that some day my job would be to spend every day helping people plan their own magical experiences.
Fast forward to 2019, after having spent years visiting the parks with my own family, I was finally able to start living out my dream job. I still love Disney, of course, and return regularly. There's still nothing quite like witnessing the magic of a Disney fireworks show like Fantasmic, strolling along the water at the Boardwalk, or sampling some of the finest dining on earth. I love to experience everything that Disney has to offer, but more importantly, to help my clients experience it for themselves.
I'm always here to help plan your next Disney parks trip, Disney Cruise, or Adventures by Disney experience. I have a particular knack for planning trips for large groups and multi-generational parties (the more the merrier!). If you're interested in really taking your vacation to the next level, I've planned many VIP tours and can also provide full service Disney bounding packages, so you and your entire party can look the part as well.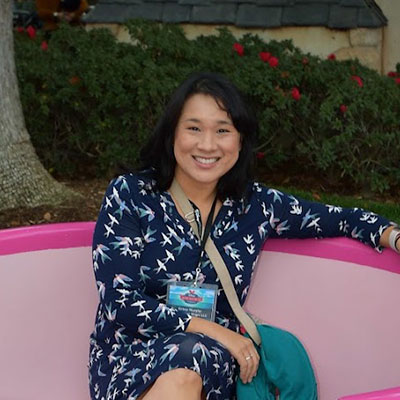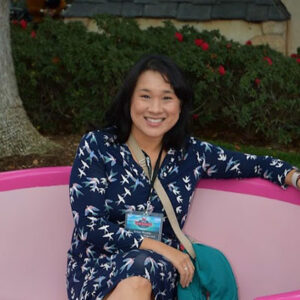 Krissy Murphy is my name, and making magical memories is my game!
A recent transplant to the Seattle/Tacoma area, I grew up as a military brat and have lived in Japan, Korea, Florida and Virginia. I've always been stricken with wanderlust, so working in travel is a dream job for me!
As a lifelong Disney fan, former Walt Disney World VIP Tour Guide, and mom of two young kids, I am eager to share my pixie-dusted knowledge and experience with you. Whether you're a newbie and need #allthehelp, or are a seasoned veteran and just need a teammate in strategizing, let's work on a personalized situation that best you and your family.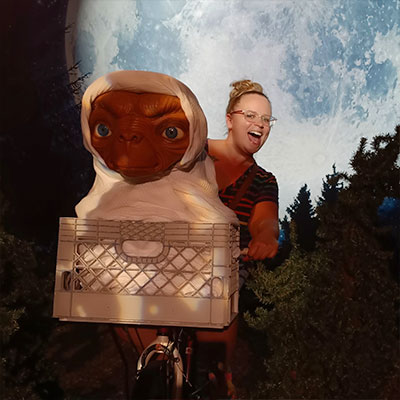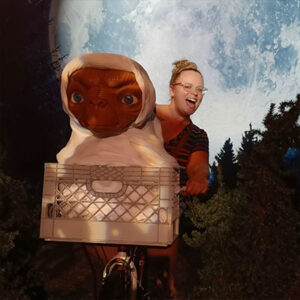 Hello, my name is Kristal and I want to be your personal travel agent. With over a decade of experience in the travel industry I am confident we can put a pin on your calendar.
Hailing from southeastern Michigan, I have been a longtime fan of Disney, fawning over even the smallest details. I adore their fleet of cruise ships, having sailed them all and eagerly awaiting their next ship! I have also attended events such as the runDisney Princess marathon weekend and the Disney Cruise Line 5k. As a well-rounded agent my passion for travel has extended to many other recognizable destinations such as Royal Caribbean Cruise Line, Universal Studios and Sandals/Beaches resorts including destination weddings.
I also have a background in those that require special assistance on their vacation. As a mother, I understand the challenges and will do my best to address them so the focus stays on the fun. Thank you for considering me to be part of your next vacation.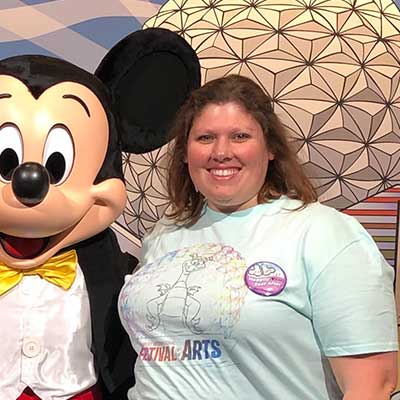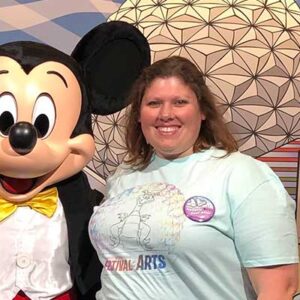 If you ask any of my family or friends, they will tell you that Disney is truly my happy place. If I'm not at the parks, I'm planning my next trip, learning about new attractions or using the My Disney app to check wait times in the park. Planning dream Disney vacations is a natural fit for me and the past three years I have helped more and more families experience the magic of Disney.
My time planning Disney vacations is not work for me, it's fun! My experience means you get the most out of your vacation. From which resorts are closest to the different parks, to transportation and which restaurants offer the best meals and snack, I am your go to gal. I have no problem getting up early to snag reservations and am available for any all questions throughout your stay. Especially if it means checking an item off your #disneybucketlist or granting a wish on the trip of a lifetime! As a mom and a special education teacher I have an eye for detail that can't be beat! I'm happy to accommodate any and all needs before, during and after your trip. I am incredibly familiar with navigating the entire resort. Let my insider knowledge work for you! Contact me so we can start planning your dream vacation today.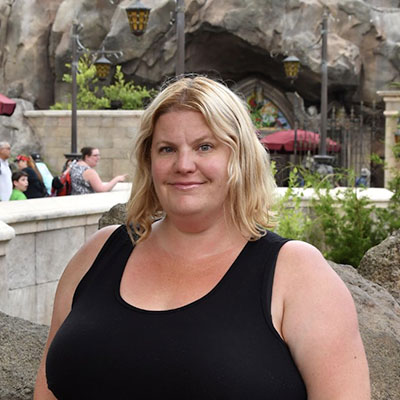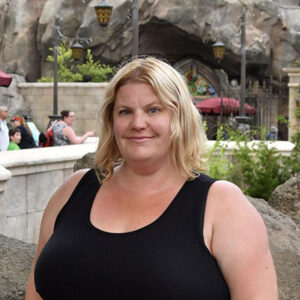 My name is Marnie and I am a Disney addict! I have always enjoyed Disneyland,
but my love for Disney grew when I went to college 14 miles away from Disneyland. My roommate and I would go several times a week to enjoy a few rides and dinner in the parks. Toontown was my favorite then, and is my kids favorite now!
My husband and I started going to Walt Disney World in 2004, and my love for all
things Disney grew even more! We are now a family of four and make sure that we get to Orlando several times a year so our kids can enjoy the magic of Disney!
I also enjoy Disney cruise line and have been on all four of their current ships to destinations such as the Bahamas, Caribbean and Alaska.
I have been an agent since 2014, and I love planning every detail with clients to make sure their stays are as magical as they can be! I am very knowledge in Disney vacations, and provide personal touches and suggestions to my clients. I would love to help you start planning your next vacation.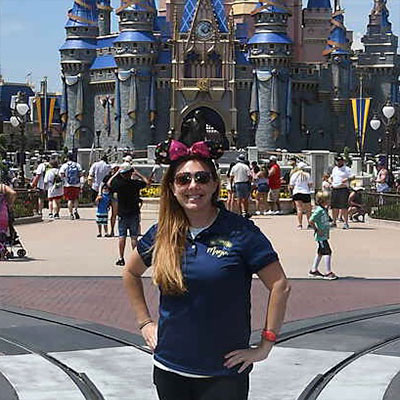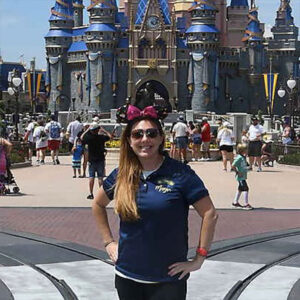 I was born and raised in the Savannah Georgia area. I met her husband during college and have been happily married for 15 years. I have two daughters that are her world. Currently The Connelly family is residing in Nashville, Tennessee. I have worked as a travel advisor for almost a decade. Vacations and traveling are my favorite things. My Top priority is concierge service for her clients and making sure every vacation is magical and stress-free. My specialties include Disney World, Disney Cruise Line, Disneyland, Royal Caribbean, Universal Studios, Seaworld, all inclusives and many other amazing vacation options.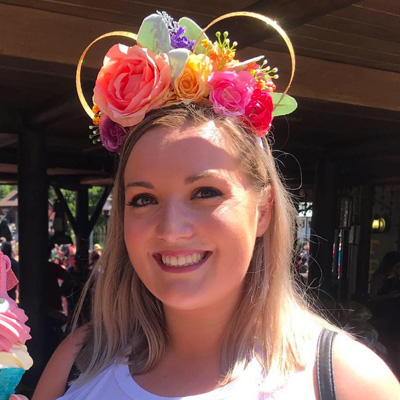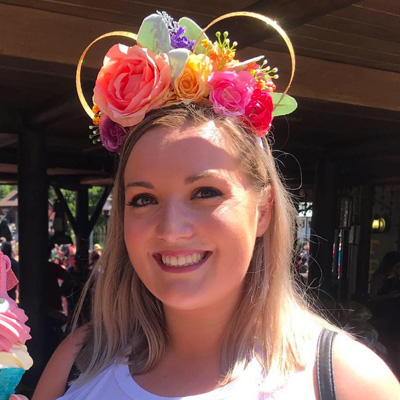 My name is Natalie Henderson and I am located in North Central Illinois. My love of all things Disney started at a very early age and has been instilled inside of me for as long as I can remember. Although I have great appreciation and love for all the Disney parks, Magic Kingdom is probably my favorite. There is no greater joy than walking down Main Street, U.S.A, smelling the sweet smells inside the confectionary, and seeing Cinderella's castle for the first time (or hundredth). That feeling never gets old!
After being blessed with many trips to Disney through the years, I continue to pass the love on to my three daughters and husband. To say we are a "Disney obsessed" family could be an understatement! Between YouTube vloggers, online bloggers, online forums, our own experiences and experiences of friends and family we stay pretty up to date on the happenings of the mouse world even though we are so far away!
Planning magical trips for others and sharing the Disney love is a passion of mine and I will treat every family's vacation as if it was my own!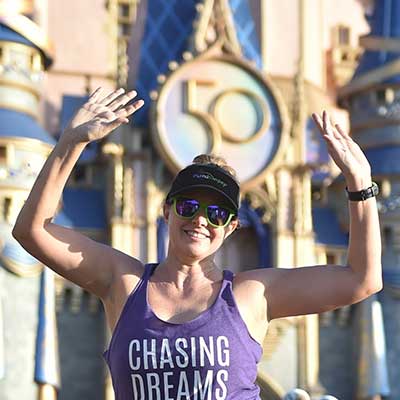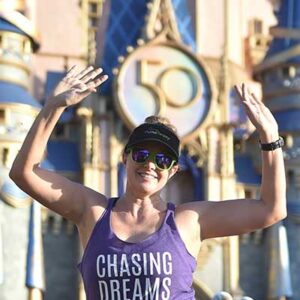 Hello! My name is Courtney Gordon and I live in the North Texas area. My love for Disney has been there since I was a child, but it was after taking our two daughters for the first time and seeing the magic come alive through their eyes that Disney really captured me. Now that our girls are older I can tell you the magic never goes away, it simply just changes with us.
I have had the pleasure of being an independent agent with Main Street Magic since 2019. In my time with the company I have had the joy of planning wonderful family trips for clients from Disney to any adventure you can think of. I work to take stress away from you by making dining reservations, setting up transportation and of course tips to make your visit as magical as possible.
I know your time with family is precious and I will always treat your vacation as if it were my own. I look forward to hearing from you and starting your next adventure!
TESTIMONIALS
Kinds Words From Our Clients
After the dust has settled and we are unpacked and back to our normal routine,I want to extend our gratitude and appreciation for all your guidance in planning our Disney trip. Our grandson had a wonderful time.We did receive a room with the pull down bed, as Amy requested for us. Our restaurant reservations were amazing. Thanks again for all your help. If we decide to plan another trip we will definitely contact you.
We just returned from our 1st of many Amazing Disney trips planned with Amy. Wow there aren't enough words to describe Amy but I will try Dedicated, interactive, helpful, well versed with Disney to a "T", accommodating , kindhearted and so much more . Amy truly was apart of everything even while I was at the park she was available via text , I can't imagine planning a trip with anyone else !!! Amy is my Disney girl for life.
I just booked my first Disney trip through Main Street Magic with Stephanie Derby and was so happy I did so! Before meeting with Stephanie I felt overwhelmed with all the options of planning a Disney trip, but after meeting with her all the stress disappeared!! She answered all my questions fast & efficiently, had the best advice on which parks to do on which days, as well as a ton of other useful & helpful information! Not only did she plan a fabulous vacation for us but she also went out of her way to check in on us during our trip to make sure everything was going great & to let us know if we needed anything not to hesitate to call her. Our entire experience from start to finish was enjoyable and stress free! We will definitely be booking all our future trips to Disney through Main Street Magic!
I just booked my second Disney vacation with Main Street Magic (my third with Amy) and I'm thoroughly impressed, as always! Not only is Amy a great friend, but she is also a fantastic travel coordinator and Disney expert. Thank you so much!
Amy really does know Disney Magic! She helped our family plan our first cruise last summer. She answered all of our DCL questions and helped us have our most amazing vacation ever! Getting set to plan next summer's cruise aboard the Magic!!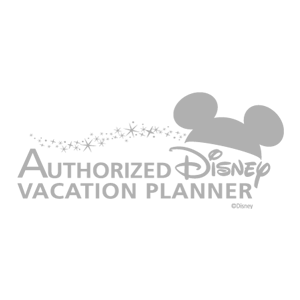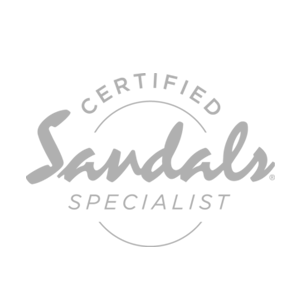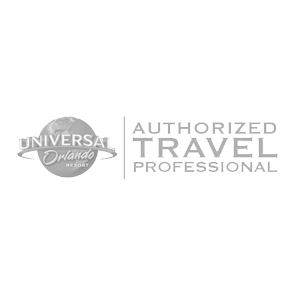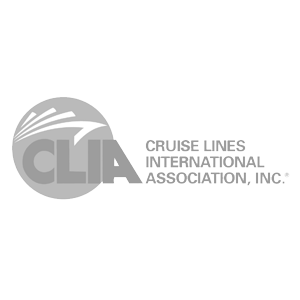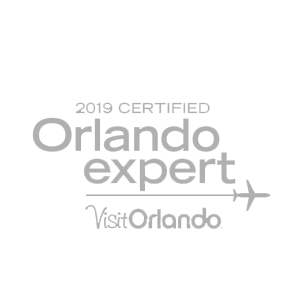 Where can we help you go?
We are a no fee travel agency. We book a variety of destination, but we specialize in Disney travel! Contact us today for a no obligation quote.
Then you might make an excellent Disney travel agent!
We are looking for people with extensive travel experience to Disney Destinations including Walt Disney World, Disneyland, Disney Cruise Line or Adventures by Disney. A good candidate should have excellent communication skills–both written and verbal. An existing list of clients in mind is a huge plus. A home office with computer, internet access and a phone are required. If so, email us! Tell us a little about why you think you would be an amazing travel agent. What are you favorite Disney resorts? Parks? Restaurants? We look forward to hearing from you soon.
NO OBLIGATION QUOTE
Get a Travel Quote Today!