OWNER & MANAGER
Amy Smith
I have been enchanted by Disney since my mom took me to see Snow White at the movie theater when I was just a little girl. I was hooked! I dreamed of meeting my prince charming and riding off into the sunset, to our beautiful castle. Some years later, my husband made my fairy tale dream come true when he took me on my first Disney trip for our honeymoon.
Now we are a family of Disney lovers! We take our little prince and princess on family trips to Disney World and Disneyland a few times each year. I treat each trip as if it were the trip of a life time. At Walt Disney World, the Polynesian is my favorite resort. It's like a entering a different world every time you walk through the resort doors. My favorite moment of every trip is the second I round the corner onto Main Street USA and get my very first glimpse at Cinderella Castle. It takes my breath away every time.
As much as I am in love with Walt Disney World, Disneyland in California holds my heart. The magic of Walt himself can be seen and felt all over Disneyland. It's the first, the original—the park that Walt built. My newest Disney love has become runDisney! I ran my first half marathon in February 2012—it was the Disney Princess Half Marathon and one of my most magical Disney moments yet. I look forward to years and years of fabulous Disney vacation to come.
I will put the same care and detail into planning your dream vacation as I do into planning my family's dream Disney vacations. Contact me today so we can get started!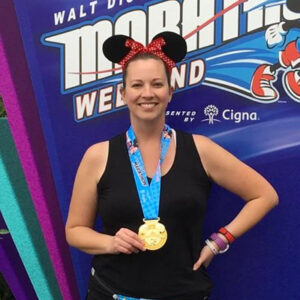 My love of all things Disney started back in 1982 when my parents took me and my sister to Epcot and the Magic Kingdom. From that day, I fell in love with The Mouse and all that Disney encompasses! I visit Disney World annually. In addition, I am also a certified Universal Orlando Resort Specialist which means I can help plan your Universal Orlando Vacation as well!
I am proud to say that I have been an independent agent with Main Street Magic, LLC since its inception in 2014. I plan all of my client's vacations as if they were my own, and give the same attention to detail as I would my own family. I have experiences with numerous resorts and try to stay at a "new-to-me resort" every time I visit Walt Disney World. The same goes for dining! Just like my clients, I like variety and try to dine at different restaurants each visit. If it's a Counter Service, Table Service, or Signature Dining Experience, I have tried many restaurants and can offer helpful tips with planning where to dine.
From vacation planning, to dining reservations, to FastPass+ reservations, I can do it all…..AT NO COST TO YOU, regardless of your budget. I also work hard to find the best price for your vacation. In the event you book a vacation with me and a promotion is released, I will try my best to apply a discount for you if it is applicable to your vacation! If you would like to add a tour from the parks, I can also assist with behind the scenes tours, dessert parties, pirate cruises, and holiday parties. I also include a little "Disney Magic" when you book your vacation with me.
When I'm not busy planning vacations for my amazing clients, you can find me training for one of the many races that runDisney hosts. My biggest running accomplishment to date is the 2016 Walt Disney World Marathon. I said it would be my first and last marathon, but I have a few more on my radar!
Please feel free to contact me with questions about Disneyland Resort, Walt Disney World Resort, Disney Cruise Line, Adventures By Disney, or Universal Orlando Vacations.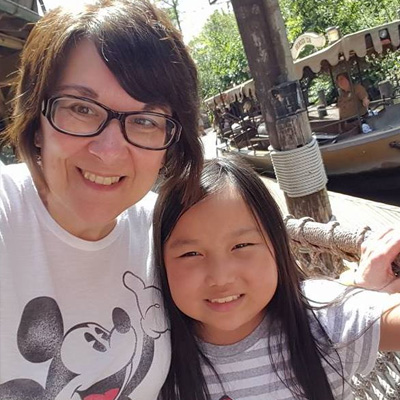 I wish I could say that I have been going to Walt Disney World since I was a child, but my first visit was in 2000 as a mom with two little children in tow who were also making their first visit.
We haven't looked back~ we were hooked! As a mom, I love the lasting memories that we have as a family. I know that when we visit a Disney property we are experiencing the best customer service and getting the best value for our vacation dollars.
When thinking back on our first trip, I was SO overwhelmed by all of the planning- how to get there, where to stay, where to eat, what to ride- I was introduced to a Disney Travel Planner who took care of everything for me and at no additional cost to my family. I knew we were well taken care of. Fast forward 15 years and A LOT of Disney trips later, I began wishing that someday I could give back and help families the way I had been helped. Through the magic of social media and runDisney I was able to cross paths with Amy and found out that DREAMS really DO come true and joined the great team at Main Street Magic in early 2016. I have loved every minute since! I would love to help YOU make MAGICAL MEMORIES!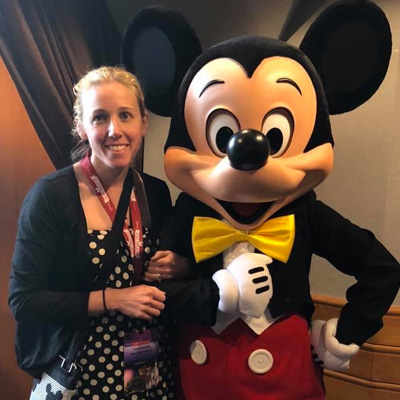 Pack your Mouse Ears and get ready to travel!
As a lifelong resident of the East Coast, I spend my free time enjoying trail and road races with my husband and four children. I enjoy coaching youth sports teams and cheering alongside the dance competition team. Together we traveled to every corner of the United States and a bit beyond. After 16+ distinguished years as an elementary education professional, I have turned my passion for travel into a career. I obtained my travel and tourism certification 5 years ago and dove headfirst into the field! My passion for travel coupled with my time management skills allowed me to transition seamlessly into the travel industry while obtaining certifications and destinations in numerous specialties.
I am a Virtuoso Certified Travel Specialist, a Special Needs/Autism Specialist and Adventure Travel Specialist with Destination Specialist Certifications in Disney Destinations, Universal Studios, AMresorts, Sandals & Beaches, Royal Caribbean Cruises, Norwegian Cruise line, Princess Cruises, Orlando, Hawaii, Alaska, Jamaica, Caribbean, Mexico and Australia. I specialize in dietary restrictive travel, large family travel and RUNcations. I am also an Ambassador for Xcaret (Mexico) and Atlantis (Bahamas). While I enjoy travel worldwide, I do have a fondness for ALL things Disney! With a background of expertise on Walt Disney World, Disneyland, Disney Cruise Line, Adventures by Disney and runDisney events, I can answer all of your questions and give you my secrets to making your vacation magical.
As your Vacation Specialist, I will help you experience everything Disney has to offer. Focusing on attention to details, I handle all of the work of planning a Disney trip for you so all you need to do is sit back and enjoy. If you are a planner by nature, I can recommend and guide you to ensure your ideal vacation goes off without a hitch. Looking to book the perfect large family or group trip? I also specialize in organizing group travel and homeschool groups with Disney's YES program (Youth Education Series), and destinations "beyond the ears".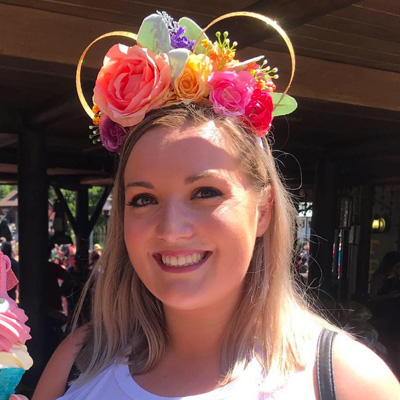 My name is Natalie Henderson and I am located in North Central Illinois. My love of all things Disney started at a very early age and has been instilled inside of me for as long as I can remember. Although I have great appreciation and love for all the Disney parks, Magic Kingdom is probably my favorite. There is no greater joy than walking down Main Street, U.S.A, smelling the sweet smells inside the confectionary, and seeing Cinderella's castle for the first time (or hundredth). That feeling never gets old!
After being blessed with many trips to Disney through the years, I continue to pass the love on to my three daughters and husband. To say we are a "Disney obsessed" family could be an understatement! Between YouTube vloggers, online bloggers, online forums, our own experiences and experiences of friends and family we stay pretty up to date on the happenings of the mouse world even though we are so far away!
Planning magical trips for others and sharing the Disney love is a passion of mine and I will treat every family's vacation as if it was my own!
TESTIMONIALS
Kinds Words From Our Clients
After the dust has settled and we are unpacked and back to our normal routine,I want to extend our gratitude and appreciation for all your guidance in planning our Disney trip. Our grandson had a wonderful time.We did receive a room with the pull down bed, as Amy requested for us. Our restaurant reservations were amazing. Thanks again for all your help. If we decide to plan another trip we will definitely contact you.
We just returned from our 1st of many Amazing Disney trips planned with Amy. Wow there aren't enough words to describe Amy but I will try Dedicated, interactive, helpful, well versed with Disney to a "T", accommodating , kindhearted and so much more . Amy truly was apart of everything even while I was at the park she was available via text , I can't imagine planning a trip with anyone else !!! Amy is my Disney girl for life.
I just booked my first Disney trip through Main Street Magic with Stephanie Derby and was so happy I did so! Before meeting with Stephanie I felt overwhelmed with all the options of planning a Disney trip, but after meeting with her all the stress disappeared!! She answered all my questions fast & efficiently, had the best advice on which parks to do on which days, as well as a ton of other useful & helpful information! Not only did she plan a fabulous vacation for us but she also went out of her way to check in on us during our trip to make sure everything was going great & to let us know if we needed anything not to hesitate to call her. Our entire experience from start to finish was enjoyable and stress free! We will definitely be booking all our future trips to Disney through Main Street Magic!
I just booked my second Disney vacation with Main Street Magic (my third with Amy) and I'm thoroughly impressed, as always! Not only is Amy a great friend, but she is also a fantastic travel coordinator and Disney expert. Thank you so much!
Amy really does know Disney Magic! She helped our family plan our first cruise last summer. She answered all of our DCL questions and helped us have our most amazing vacation ever! Getting set to plan next summer's cruise aboard the Magic!!
Where can we help you go?
We are a no fee travel agency. We book a variety of destination, but we specialize in Disney travel! Contact us today for a no obligation quote.
Then you might make an excellent Disney travel agent!
We are looking for people with extensive travel experience to Disney Destinations including Walt Disney World, Disneyland, Disney Cruise Line or Adventures by Disney. A good candidate should have excellent communication skills–both written and verbal. An existing list of clients in mind is a huge plus. A home office with computer, internet access and a phone are required. If so, email us! Tell us a little about why you think you would be an amazing travel agent. What are you favorite Disney resorts? Parks? Restaurants? We look forward to hearing from you soon.
NO OBLIGATION QUOTE
Get a Travel Quote Today!